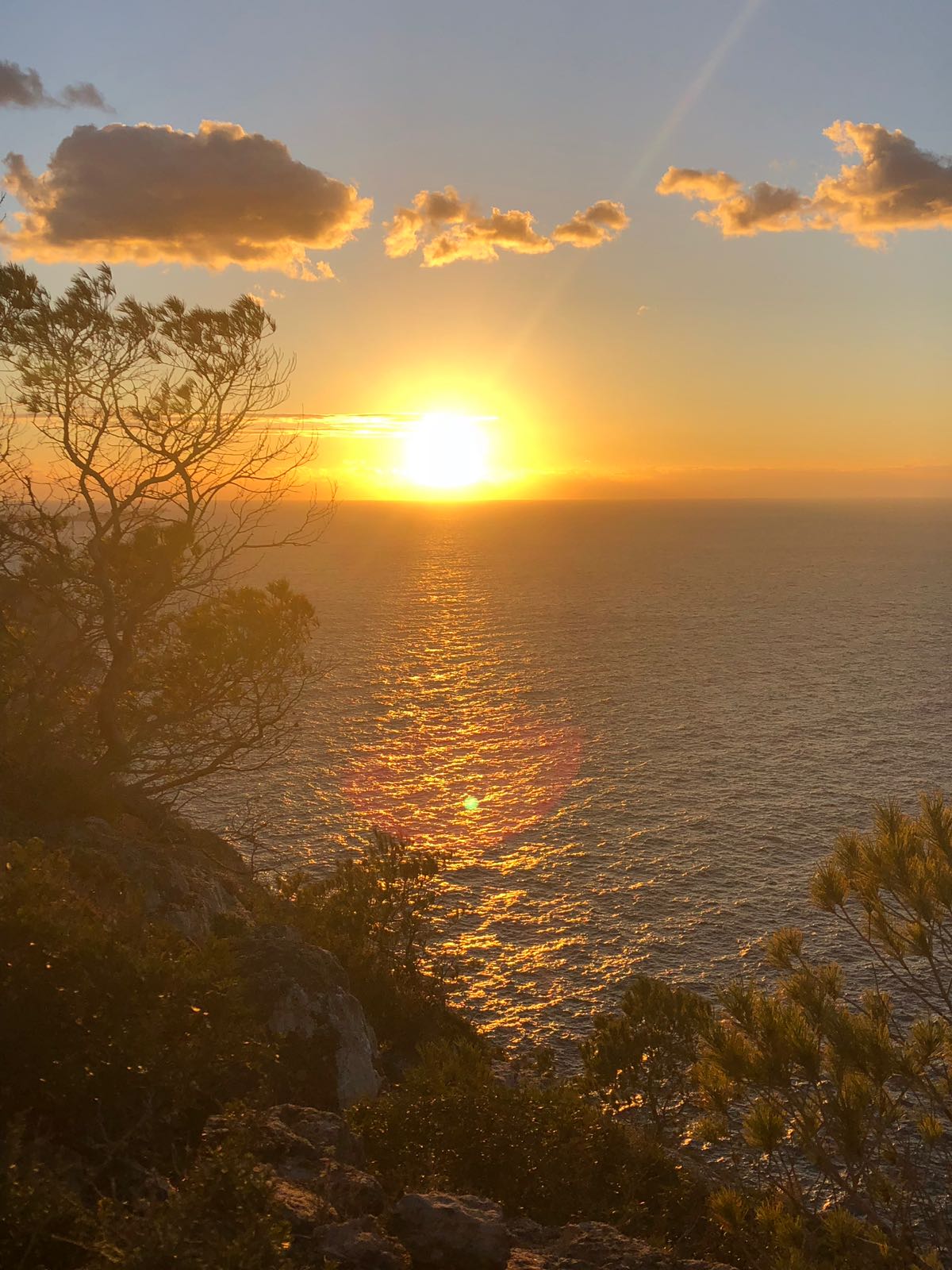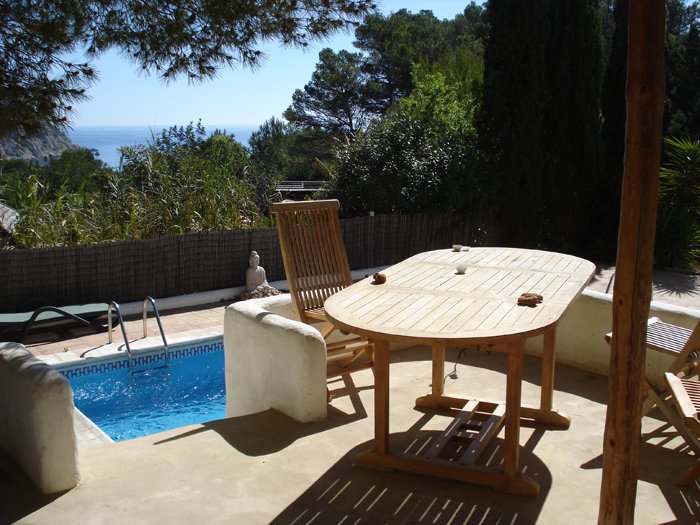 I have discovered a captivating, eco-friendly yoga shala just outside of Santa Eulalia on the beautiful island of Ibiza.
Finding this place feels the perfect mix. Tranquil and leafy, the Yoga Shala is set in gorgeous, natural surroundings. It is five minutes from a broad, pebble beach and just ten minutes from a shallow, sandy bay. Yogis can also enjoy a breath-taking view of the "Magic Mountain" from the shaded yoga platform by the swimming pool.
The daily morning practice
There will be a workshop type class in the mornings and the rest of your day will be free.
We will start at sessions at 8am with pranayama and meditation,/mindfulness followed by a gentle though dynamic flowing asana practice, We will be practicing for several hours together, finishing around 11am. There will be a simple nutritious porridge, juice, fruits and herbal teas after the morning practice.
After morning yoga, you may wish to spend time by the pool or go to the many beaches on the island, there is so much to explore or if you feel you can stay close by and enjoy the beach and ocean 10 minutes walk away from the yoga shala..
There are many vibrant and stunning sunset spots, markets to browse around with designer wears and many beautiful walks over the peaks with great views. I can also arrange a guide if walking/hiking is something that appeals to you.
The Yoga space
The yoga shala is an eco-friendly yoga centre, Its set in fabulous natural surroundings just outside Santa Eulalia and only 15 mins drive from Ibiza Town. It is just five minutes from a pebble beach and ten minutes from a shallow sandy bay and has beautiful views of the nearby "Magic Mountain" and the sea. It also has an outside shaded yoga platform and a swimming pool and as there is very little light pollution our stars twinkle very brightly.
Where you will stay
There is many places to stay near to the yoga shala. There are some lovely, self-catering apartments just ten minutes' walk from the Yoga shala. These apartments is moments away from the gorgeous ocean and accommodates two people sharing one bedroom, with twin beds. They are furnished with a comfortable sitting room and cosy kitchenette. The apartment block itself operates a handy little cafe and there is also a pool to cool off in on a hot afternoon. There are lots of great restaurants and a stocked supermarket nearby. I would be happy to help you.
Where we are situated, It's easy to commute around the island by bus, taxi and small ferry boats. I am happy to provide you with any local knowledge you may desire to help make your days off fun and exciting! This retreat is perfect for yogis seeking some deep connection and meditation in the sun and for any of their non-participating friends or family looking for a destination mini-break.
Although the retreat focuses on yoga each morning while you are in Ibiza you can also try out some aquatic sports such as windsurfing and sub-aqua diving in the beautiful, clear sea. The island also offers a variety of fantastic hiking trails and if you're feeling particularly adventurous, you could even try horse riding.
Cost of the retreat
Price per person for the yoga sessions and energising juice each morning is £435 for 6 full morning workshop sessions.

There are many cafes and restaurants nearby to choose from for breakfast, snacks, coffee's and dinner.
To reserve your place, the full amount of £435 is required.
I can help with finding accommodation. There are many places to stay on the island. Also check out booking.com
Travel
Flights are very reasonable and fly to all the London airports.
I recommend that you book your flight as early as possible. Ryanair and Easyjet offer cheap flights. If you need help in finding a flight please contact me.
https://www.skyscanner.net is a good website more flights

Insurance, flights, food and transfers to where you are staying are not included in the cost of the retreat.
Although I will arrange transfers for you and I will always try to put you with another friend coming on the same or similar flight wherever possible.
Testimonial
"Ali is one of the best yoga teachers I've ever met. Sensitive to everyone's individual needs, she also gives generously of herself. She pays particular attention to restorative yoga. We spent a fantastic, relaxing yet invigorating week in a little paradise. My next retreat with Ali cant come soon enough." Lotte
Do you have any more questions?
Please don't hesitate to contact me at ali@aligilling.com